Welcome to Quick Release Mounts for Sim Rigs or QR4rigs for short.
Please ensure you have read the
START Here (a.k.a. RTFM)
page before placing an order!
Increase Your Immersion!
We like to make things fast and easy all round when it comes to simming, whether it is rapidly switching between racing or flight, or swapping to just the right controllers for a more true to life, authentic feel for the aircraft or spaceship you are flying or the car or truck you are driving.
Return on Your Investments
Have you got joysticks, HOTAS, rudders, pedals, wheels, gear sticks etc that you put away, or sims and games you don't use because it is too cumbersome to tear down your rig and build it back up just to play something now and again?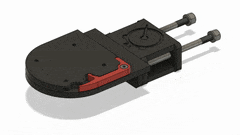 Take Control of your Sim Environment
Using our QR systems, you can switch your controllers out in seconds, giving you more time in the sim or game of your choice and allowing you to widen the use of the rig that you have (most likely) heavily invested in!
Ideal for Virtual Reality
When using VR, it is important to have a clear path to your controllers. With your controllers on our QR systems, you can just have the controllers you need at your fingertips attached to the rig and completely declutter your rig environment, a happy side effect of Quick Release (QR).
QR Naming Convention
Each position on your rig has a QR Base Mount System, the QR Family, controller types and position on your rig is shown in the picture below along with a size comparison.
NOTE: You will need a QR Base Mount for each position on your rig you want to enable QR and a QR Plate with the matching QR Family (name) for each your controllers you wish to mount to them.

Appearance
All of our mounts are 3D printed, they will have printing lines and seams on them, some will have post production processing carried out on them and show signs of sanding, scraping and filing. Some parts may have minor cosmetic imperfections where this will not affect the performace or longevity of the part. We use very strong materials which are designed to withstand normal forces.

Constant Innovation
We strive to improve our designs daily, so some of the parts you receive may differ slightly in appearance to the rendered representations and pictures on the website. If you receive something that is different to that on the website in appearance, rest assured it is because of a minor forward improvement as we rarely have time to create any stock and only update the pictures on the website when any major changes have taken place.
Featured Video: How the QR4rigs Quick Release systems work!


Can't find what you need?
If you have a controller that we currently do not support, please use the
Contact Us Form
and let us know about your controller and we will do our best to quickly design a QR Plate to add to our catalogue. If you are the first with the request, assist us with information and we are successful with a design, we will issue a
unique discount voucher
to you so you can purchase the new product at a discounted price in return for your suggestion and help with dimensions and fixing points.